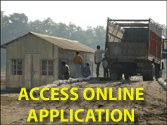 Minor Mineral Collection
Collection and marketing of minor minerals (sand, boulder and Bazari) from the river beds of reserved forest areas has been undertaken in order to protect the forest lands, agricultural crops, inhabitations from the havoc of floods. The collection and marketing system is being converted from volume base to weight basis for the disposal of minor minerals, in the Gaula, Sharda, Nandhaur, Kosi, Dabka, Ganga, Yamuna and Song rivers of the State. The implementation of advanced computerized technique of minor mineral weighing system is a step towards advancement and use of new technology.
The use of new technology has produced good dividends in terms of increased production and more income to the labor. Computerized weigh Bridges have been installed. This system has controlled the pilferage of minor mineral to the level of satisfaction and in 2007-08 the substantial increase in the turn over revenue quantity of minor minerals collected by the Corporation is about 110 lac cum. The various components of revenue related to the minor mineral extraction are: royalty of the material, Trade tax, Income tax, Stamp duty, Compensatory afforestation charges etc. Nearly 110 lac man days are also generated from this activity. Also the impact of scientific working has reduced the instances of floods in Gaula river in district Nainital and other rivers. Both banks of the river have shown the emergence of primary succession and stabilization.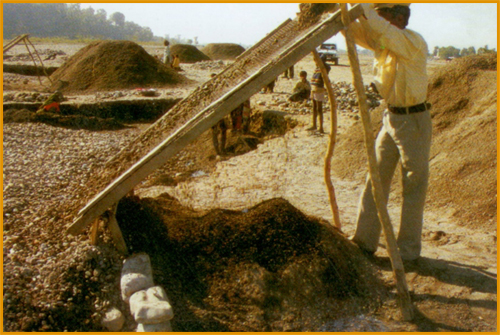 Minor-Mineral Collection Divisions
| | | | | |
| --- | --- | --- | --- | --- |
| S.No | Name | Division Name | River Name | Volume detail |
| 1 | Shri Dhiresh Chandra Bisht | Ramnagar | Kosi, Dabka | 14 lakh Cubic meter |
| 2 | Shri Satyapal Singh Rawat | Haridwar | Ganga and its Tributries | 21.50 lakh Cubic meter |
| 3 | Shri An Singh Kandli | Dehradun | Yamuna-Song-Naronala-Kotmot | 229 Ha |
| 4 | Shri Y K Srivastava | Nandhaur | Nandhaur-Kailash | 21 lakh Cubic meter |
| 5 | Shri Harish Pal | Tanakpur | Sharda | 7.60 lakh Cubic meter |
| 6 | Shri Y K Srivastav | Haldwani | Gaula Haldwani | 54 lakh Cubic meter |
| 7 | Shri Vijay Pal | Kotdwar | Malan | 35 Thousand Cubic meter |
S.No

River

Target Volume (m3)

Area (ha)

1
Gaula
5400000
1497
2
Ganga
2000000
1380
3
Nandhaur
2100000
468
4
Sharda
1200000
384
5
Kosi
2030000
254
6
Dabka
848000
223
7
Song I
375000
225
Song II
425000
273
Song III
300000
270
Song - Mussoorie
150000
64
8
Jakhan I
325000
195
Jakhan II
125000
100
9
Swarna
98000
23.75
10
Malan
12500
35
Total
15278000 (m3)
5333 ha
Minor-Mineral Collection work in progress- River Song